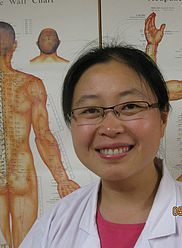 Miao Xu, Doctor of Acupuncture
Miao Xu, Doctor of Acupuncture, brings years of Traditional Chinese Medicine experience to Canada. Born and raised in China, Miao started her training in acupuncture and Traditional Chinese Medicine since 1992. After receiving her degree from Shandong University of Traditional Chinese Medicine, Miao had been teaching and practicing acupuncture and traditional Chinese Medicine as a licensed practitioner in China. Years of study and practice has given her a broad knowledge and understanding of health care issues.
Miao has a passion for helping people and is committed to assisting them to lead healthier lives. She opened her own "Celestial Spring Clinic" and hopes to bring together her years of practice, knowledge and experience to help those in need of it.
Some of the treatments include:
Pain management, headache/migraine,
stress/depression/anxiety, low energy/fatigue,
menopausal symptoms, infertility,
insomnia, arthritis, asthma,
weight control, diabetes, etc.
Call today for your appointment.